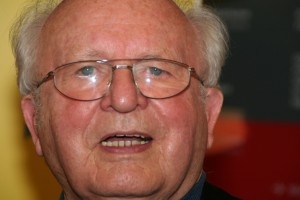 Erwin Glonnegger has won one out of three 'Dau Barcelona Awards'. The Award is given by the Community of Barcelona.
Glonnegger was born 1925 in Aulendorf, a village not far from Ravensburg. He wrote a number of informative books, invented games, and was until his retirement (1985) for 35 years in charge of the program of Ravensburger games. Directed by him successful games were put on the market like Memory (1959), Barricade (1960), Ravensburger Crafts, pocketbooks and many widely spread game compilations. The bookshelf edition called 'Casinogames' has become a collectors item and he initiated Ravensburger's step into the business of jigsaw-puzzles.
Glonnegger realized early the internationalization of the games market. He cooperated closely with inventors of high reputation like Alex Randolph or Max Kobbert. 'Börsenspiel', 'Erstes Rechnen', 'Deutschlandreise', 'Handel und Wandel', 'Emil und die Detektive' and many other successful titles were sold in high numbers. He was also responsible for 'Hare and Tortoise' the first game to win "Spiel des Jahres" in 1979. "Glonnegger was able to recognize that there could be a rapid internationalization of the gaming market and made contact with many authors who worked to introduce new ideas in games. He was the first person in the games international industry that was able to see that a game is a work of creation and, therefore, the role of the authors is essential and irreplaceable" are some of the reasons of the jury to dedicate this award to him.
The Dau Barcelona Awards are connected to the second edition of the 'Dau Barcelona'. The Catalan word 'Dau' means dice. This event dedicated to games is organized by Oriol Comas on behalf of the Cultural Institute of Barcelona. When this event started last year it counted over 5.000 visitors although date and location were not in favor of the organizers. It took place on the last weekend before Christmas and was located in Fabra I Coats, a deserted factory in a remote suburb of Barcelona.
There will be a gala ceremony at Virreina Palace, Barcelona on Friday, December 13th. Besides the award for Erwin Glonnegger there will be two more awards for 'Best Author of 2013' and 'Best New Author 2013'. For these two categories can vote a total of 450 authors from around the world thanks to the collaboration with the website Board Game Geek. However, the award for Glonnegger has been chosen by the community of Barcelona and will be handed over by Jaume Ciurana, Deputy Mayor in charge of Culture, Knowledge, Creativity and Innovation. Inés Garriga, Director of Creativity and Innovation of the Culture Institute of Barcelona , Oriol Comas, commissioner of Dau Barcelona, Daniel Giralt-Miracle, a member of the Council of Culture of Barcelona, Josep Maria Joan, director of the Toy Museum of Catalonia, and games expert Marc Figueras acted as consultants.