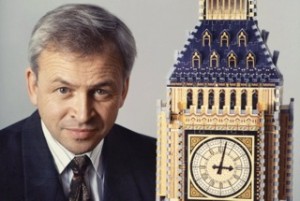 Paul Gallant was born in Edmunston, New Brunswick, in 1944.  He has lived  living in Montreal since 1958.  He attended lectures in commercial design.
Mr. Gallant had a successful career in the recording industry, while being successively employed by Trans Canada Musique and by CBS Records (Sony Music) for a period of eighteen (18) years.  He subsequently became manager of derived products with Canadian Broadcasting Corporation (CBC) Enterprises.  While at the CBC, he had the opportunity to show his creative talents and his expertise in the marketing of derived products.  Having in mind to express further his creative talents, he then started his own company, Gallant International Inc., licensing agent, whose main activity was to find marketable products on behalf of various clients.
His research brought him to create an innovative and revolutionary product.  The three-dimensional Puzz-3D® puzzle concept was born and Wrebbit company came to life. Gallant immediately takes steps to protect his new idea by obtaining a patent and registering the trademark. The challenges of designing, manufacturing and marketing this unique new concept had to be met.
Under Paul's leadership, promotional and marketing skills, Wrebbit and Puzz-3D® puzzles became a worldwide success almost instantly, generating sales in over 40 countries from 1991 to 2005. His active presence with the media has brought Wrebbit a constant visibility as a high profiled organization.
Gallant's skills allows the company to collaborate with organizations recognized worldwide, such as The Walt Disney Company, Children's Television Workshop (CTW) "Sesame Street" and Lucasfilm "Star Wars", just to name a few.  The expertise and talent of Wrebbit's team is recognized by major companies such as Milton Bradley Company and Hasbro International Inc., who are Wrebbit's strategic partners on the international market between 1996 and 2000.
Paul can also claim credit of other inventions in the toys and games industry, such as Perfalock ™ foam flat puzzles as well as the Wrebbit Puzzle Machine      ( now Puzzle Shots factory™) and of many awards won over the years by the company, among which the Canada Export Achievement Awards (1995), Canada-American Business Achievement Awards (1996).
Mr. Gallant has been acting actively as president since the start-up of Wrebbit's operations in 1991 through 2005. On September 9th, 2005, Paul Gallant sold the company to Hasbro Games who also acquired all the patents and rights to Puzz-3D®, Perfalock™ and the Puzzle Factory.
From his retirement in 2006, Paul had to fight a long and courageous battle with cancer.